There's some multiple way to visit and discover cities and cultural site.
With our excursion department, France luxury tour, we consider that's one of the best ways is to book a private tour or to choose a small group tour.
With a private tour, you choose your time for departure, how long you want to stay in each place, you can change your mind at any time or fall in love with one place and reconsider your tour.
You'll have a private guide for you and he will adapt the tour considering your point of interest.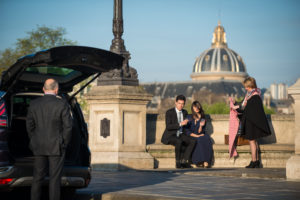 Whether traveling as an individual for leisure, or in a group as part of an incentive package or business trip, France Luxury Tour creates exclusive programs that suit your needs from the small group to the private guided tour with a wide range of transportations services . 
We guarantee that your experience will be a memorable one, while avoiding unnecessary queues, freeing up invaluable time to discover, taste, smell, listen and feel.
Tour leader
All our tours are led by an English, Spanish or portugese driver guide with enough historical and country knowledge to comment on your tour.
For other languages or if you want a very high level of comment, we recommend specially requesting a licensed guide that we will choose according to your specific request.
Bespoke tour
As your tour is private, you have to choose the time and meeting point. Just be careful about time access to the museum and monument you wish to visit.
France's destination offers a lot to discover, but you need time to discover all . We always recommend our client to be reasonable and to be careful to not add too much in one day and finally spend most of your time in a motorway. As natives, we really know what is workable in a comfortable way. we will not promise you too much that we'll make you finally unhappy.
Our target is to make your day trip a really good experience.
For your bespoke request, click here
Classical Tour
We propose some ready programs to help you to discover the country but if you have special request, feel free to add comment in your order or ask the guide  before or during the tour .
Toview our Paris city tour and activities : Paris Tours and our day trips from Paris : Paris day trips tours
Online reservation our "Must see" private France tour